Lied Fitness Center Membership Application
Membership to the Lied Fitness Center includes many amenities and services including: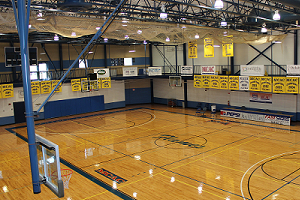 Gym Access: The full court gym is located on the lower level with entrances on both levels.
Indoor Walking Track: The track is located on the upper level above the gym. It consists of 2 lanes (Inside lane: 15 laps = 1 mile / Outside lane: 14 laps = 1 mile).
Weight Room/Cardio Room: The weight and cardio rooms are located on the lower level near the women's locker room. It consists of treadmill, bikes, stair steppers, elliptical, free weights and various weight machines.
Multi-Purpose Room: This room contains a full-wall mirror, ballet bar, aerobic steps, stretching mats and a DVD/VCR hooked up to a projection screen. This room is located on the upper level across from the reception window.
Indoor Pool: The pool, located on the lower level, is 4 ft. at the shallow end and 7 ft. deep at the deep end. Entrances to the pool are through the locker rooms. A sundeck is located outside the pool deck. The pool can only be used when a lifeguard is present.
Reception Area: The Reception area is the heart of the Fitness Center. This is where you register for programs, check out equipment and obtain general information.
Locker Rooms: Located on the lower level. Locker rooms contain locker/changing area, restroom and shower stalls, and swimsuit dryers.
Equipment Available: Towels, basketballs, volleyballs, and soccer balls. We also have workout DVDs.
Pool Equipment Available:Noodles, aqua belts, kick boards, child floats, water barbells and beach balls.
USE OF ALL AREAS ARE SUBJECT TO CHANGE DUE TO CLASSES, SPORTS PRACTICES, GAMES, RENTALS, AND SPECIAL EVENTS. PLEASE CALL AHEAD TO CHECK AVAILABILITY!